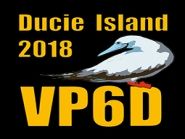 2018-02-08 22:31:14
Radio Amateurs memebers of the PDXG DX Group will be active from Ducie Island, IOTA OC - 182, as VP6D, 20 October - 3 November 2018. They have landing permission, amateur radio license, visas.

Plus d'info ICI...
---
Version traduite en Français via Google Translate
Les membres de Radio Amateurs du groupe PDXG DX seront actifs en utilisant l'indicatif VP6D de l'île Ducie, IOTA OC-182, du 20 octobre au 3 novembre 2018. Ils ont l'autorisation d'atterrissage, licence radio amateur, visas.