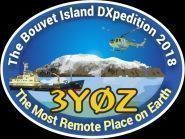 2018-01-16 22:04:14
3Y0Z. International Team will be active from Bouvet Island, IOTA AN - 002, in 2018 as 3Y0Z. Planned dates 20 January - 28 February 2018 (will be determined by vessel shedule).
Dear OM,
As you most likely know a good part of the upcoming DXpedition will be spend on 6m and 2m EME. On our EME page ( http://www.bouvetdx.org/eme-bouvet-island/ ) you can find more details on our planned set-ups. Due to the longer journey starting from South America and the high risks involved of getting to and from the island in a hostile environment. Such a DXpedition has to be well equipped to sustain at least 2-3 weeks on the remote inhabitant island.

Plus d'info ICI...
---
Version traduite en Français via Google Translate
L'équipe internationale sera active depuis l'île Bouvet, IOTA AN-002, en 2018 en 3Y0Z. Dates prévues du 20 janvier au 28 février 2018 (seront déterminées par le calendrier des navires).
Cher OM,
Comme vous le savez probablement, une bonne partie de la prochaine DXpedition sera dépensée en EME de 6m et 2m. Sur notre page EME (http://www.bouvetdx.org/eme-bouvet-island/) vous pouvez trouver plus de détails sur nos installations prévues. En raison du voyage plus long à partir de l'Amérique du Sud et des risques élevés liés à l'entrée et à la sortie de l'île dans un environnement hostile