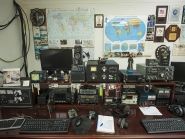 2018-01-03 06:38:01
It is commonplace that people smell a rat about successful persons. Athletes are tested for illegal substances, politicians are placed under scrutiny by other politicians, businessmen are always looked upon with suspicion.

Plus d'info ICI...
---
Version traduite en via Google Translate
Il est courant que les gens sentent un rat au sujet des personnes qui réussissent. Les athlètes sont testés pour des substances illégales, les politiciens sont placés sous surveillance par d'autres politiciens, les hommes d'affaires sont toujours regardés avec suspicion.