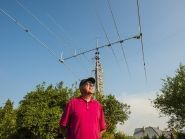 2018-01-02 10:39:03
This is not a Hollywood movie screenplay, not another American dream story. It is a short, but true account of one person's ambitious pursuit of goals in life, with Amateur Radio.

Plus d'info ICI...
---
Version traduite en via Google Translate
Ce n'est pas un scénario de film hollywoodien, pas une autre histoire de rêve américaine. C'est un compte rendu court, mais vrai, de la poursuite ambitieuse d'objectifs d'une personne, avec la radio amateur.